One article of feelings
Akadama single dish ranking BEST3
◎First place beef sinew
One article that stewed domestic beef with secret sauce carefully.
Please appreciate the beef sinew which Akadama Honten recommends with confidence.

◎Second place Yudofu
"Taste to calm relievedly" to feel material original taste in stock plainly
As well as cold time of the winter, it is one article to be able to enjoy throughout the year.


◎The third place Akadama chazuke
One article that rice of the light brown that I cooked with stock of the oden of the Akadama Honten is appetizing. Please sprinkle the stock of Akadama properties.
Please have it to occupy it.
Sashimi
●Assorted five kinds of sashimi         1,800 yen
 (there are 2-3 portions.)

※By the stocking situation of the day as for the sashimi in a season the type of the fish
 I may change it.
Ceramic ware
---
●hatahata                 640 yen
---
●hokke                  680 yen
---
Make a skewer; firing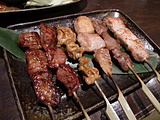 ●Barbecued chicken (two)               450 yen
---
●Pig rose (two)               460 yen
---
●Tsukune (two)               460 yen
---
●Margin (two)                430 yen
---
●Spit-roasted sampler             1,370 yen
---
Deep-fried food
---
●Deep-fried chicken cartilage                       600 yen
---
●Assorted tempura                     1,100 yen
---
●hatahatano deep-fried chicken                       660 yen
---
●Deep-fried loach                       700 yen
---
●Deep-fried squid arms                          620 yen
---
●Deep-fried octopus                         650 yen 
---
●Deep-fried white prawns                        770 yen
---
●Satsumaage of Noto                      560 yen
---
●Deep-fried chicken                          640 yen
---
●Traditional croquette                     550 yen
---
●French fries                        450 yen
---
Reproduction menu of the Showa era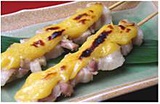 ●Akadama-like Doteyaki (two)          520 yen
---
●Akadama pork fried on a skewer (two)            630 yen
---