Akadama Top 3 Dishes
◎1st place beef tendon
A dish of carefully stewed domestic beef in a secret sauce.
Be sure to try the beef tendon that Akadama Honten recommends with confidence.

◎2nd Place Yudofu
"Relaxing taste" where you can feel the original umami of the ingredients in the light soup stock
This is a dish that can be enjoyed all year round, not just during the cold winter months.


◎3rd place Akadama chazuke
An appetizing light brown rice cooked in Akadama Honten's oden soup stock.Served with Akadama's special soup stock.
Please enjoy your meal.
Sashimi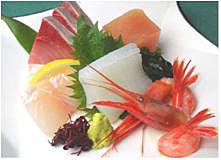 Assorted five kinds of sashimi 1,800 yen
 (There are 2-3 servings.)

*The type of fish used in sashimi may change depending on the season and the purchase situation of the day.
pottery
Grilled skewers
| | |
| --- | --- |
| ●Yakitori (2 sticks) | 450 yen |
---
| | |
| --- | --- |
| ●Pork belly (2 pieces) | 460 yen |
---
| | |
| --- | --- |
| Tsukune (2 pieces) | 460 yen |
---
---
| | |
| --- | --- |
| Assorted grilled skewers | 1,390 yen |
---
Fried food
---
| | |
| --- | --- |
| Deep-fried chicken naankotsu | 600 yen |
---
| | |
| --- | --- |
| Assorted tempura | 1,100 yen |
---
| | |
| --- | --- |
| Deep-fried sandfish | 660 yen |
---
---
| | |
| --- | --- |
| ●Geso fried chicken | 630 yen |
---
| | |
| --- | --- |
| ●Deep-fried octopus | 660 yen |
---
| | |
| --- | --- |
| Deep-fried white shrimp | 800 yen |
---
---
| | |
| --- | --- |
| ● Deep-fried chicken | 660 yen |
---
| | |
| --- | --- |
| Traditional croquette | 550 yen |
---
---
Showa reprint menu
| | |
| --- | --- |
| ● Akadama-style Doteyaki (2 sticks) | 540 yen |
---
| | |
| --- | --- |
| ● Akadama Kushikatsu (2 skewers) | 650 yen |